The Max Stern Yezreel Valley College (YVC)
YVC, situated in the Yezreel Valley between the cities of Afula and Nazareth, is an academic institution that promotes academic coexistence. The Association and Midrasha's offices are based on YVC's campus and Midrasha students live in the dormitories. YVC's administration has opened its doors to the program and assists with marketing, administration and academic support.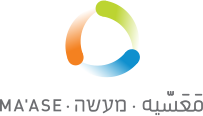 Ma'ase Center
The Ma'ase Center operates various volunteer programs for the purpose of integrating Israeli young people from the periphery into Israeli society and building a shared language based on values of equality, tolerance and responsibility. The Center is the primary partner in the operation of the Association for Joint Israeli Leadership and the Midrasha, sharing its infrastructure, knowledge and experience.